Here at Polka Dot Design, we pride ourselves on carrying some of the best and most unique invitations and personalized stationery available. We understand the importance of adding your own particular style to every invite or thank you card you send out to your loved ones. That's why we feature the most popular designs around, including the series we're showcasing this week, Sarah LeClere invitations.
Sarah Elizabeth Connolly started Sarah LeClere in order to create invitations that would directly reflect her children's differing personalities. Connolly uses one-of-a-kind original images in an effort to make each celebration matchless among others. Since family has been at the core of creation for each of her designs, it was only fitting that Connolly named her collection after her grandmother, with whom she shares her first name. Connolly hopes that her collection of invitations inspires each recipient, and becomes a treasured reminder of life's best moments.
We have brand new Sarah LeClere invitations that are perfect for any and all occasions. Each invitation features soft colors and practical fonts, all the while maintaining a specific die-cut physicality. Die-cut styled invitations have been a beloved choice among Polka Dot Design customers, and below you'll see exactly why. Check out a few of our favorite Sarah LeClere invites.
Pumpkin Invitation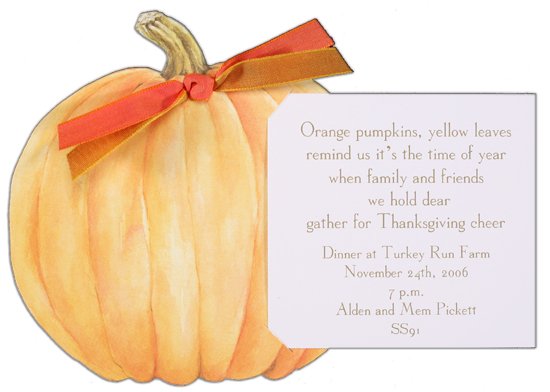 Perfect for the upcoming holiday season, the Pumpkin Invitation from Sarah LeClere is an adorable way to extend the invite for all autumn gatherings. Whether it's an annual Halloween party for neighbors and friends, or a memorable Thanksgiving dinner, the Pumpkin Invitation is the perfect choice. The die-cut pumpkin shape, plus the fall-colored ribbon tie make this invitation a one-of-a-kind seasonal favorite.
Angel Christmas Tree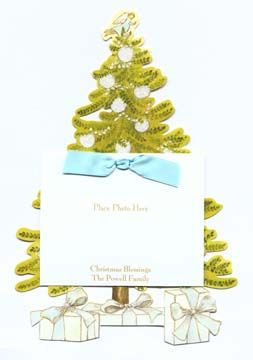 Speaking of holidays, with Christmas right around the corner, now is the time to start sending out your invitations. If you're having a Christmas dinner, or inviting coworkers to the annual holiday party, Polka Dot Design has you covered with Sarah LeClere. The Angel Christmas Tree is a festive and fun invitation for all your Christmas party needs. This invitation is layered and die-cut, and ties with a beautiful blue ribbon. White presents adorn the bottom of the tree, making this invite an easy holiday crowd-pleaser.
Lobster Invitation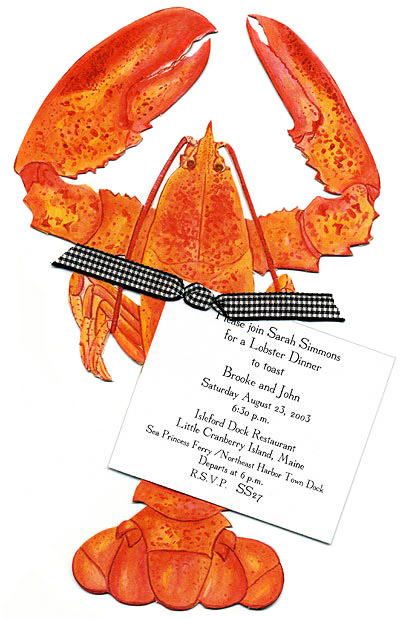 But Sarah LeClere invitations aren't just centered around popular holiday gatherings. Take the Lobster Invitation for example. This invite is ideal for beach parties, lobster bakes, or end-of-summer gatherings. This considerable crustacean card features a die-cut shape with dynamic orange and red colors and a black-and-white checkered tie. It's a joyous way to gather friends and family for a backyard bake.
Cowboy Boot Invitation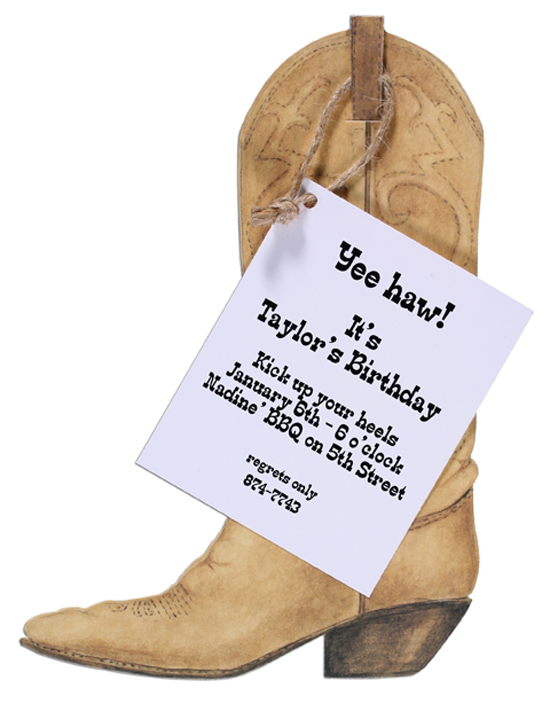 Or perhaps you're looking for a themed invitation for your next Western birthday party. The Cowboy Boot Invitation is an authentic way to "kick" off your boots and celebrate rancher-style. The detailed, die-cut brown boot paired with the genuine Western text, make this invitation one-of-a-kind. Yee-haw!
Crocodile Bag Invitation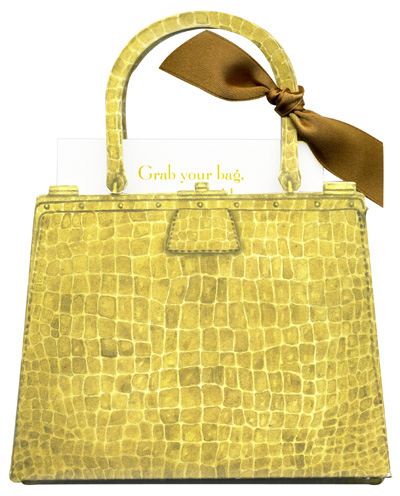 Maybe you're tired of the same old bridal shower invitations. Sarah LeClere has come up with a wild, alternative to gather the girls for a good time. The Crocodile Bag Invitation is one of the more popular choices from Sarah LeClere and it's easy to see why. The gold bag features intricate detail work resembling a crocodile skin purse. With a fashionable brown ribbon tied to the handle, sending this invite to the girls is a great way to preemptively  plan the perfect outing.
Sarah LeClere invitations are some of the most unique kinds of invites out there. They span any and every occasion you can surmise, and have an authentic, original feel setting them apart from any other type of invitation. The ones shown above are just a few of the many we carry from Sarah LeClere and we urge you to peruse the rest in order to fall in love with her collection as easily as we did.