One of the best parts of the holiday season is reconnecting with friends and family through all the incoming and outgoing holiday cards. Although you may not see everyone you care about as often as you would like, a great way to show them that they are in your thoughts is through festive Christmas photo cards!
Gather your family and make it a memorable day posing for your upcoming Christmas card photo shoot.  Polka Dot Design has a wide variety of options for your holiday cards, from funky chevron prints to festive red and white designs. Your Christmas photo cards will be the talk of the town, as you browse through all the options to personalize and customize the best card yet. Take a look at some of our favorites for this upcoming Yuletide season.
Dreaming of a White Christmas Photo Card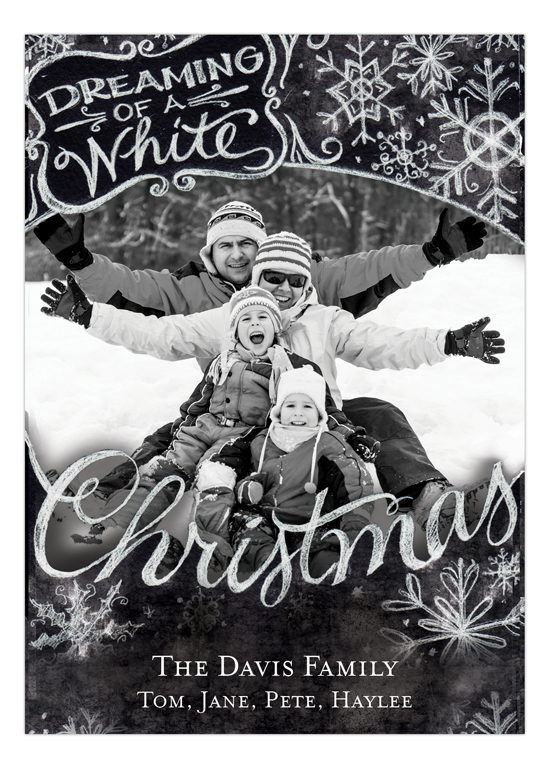 One of our most popular choices for Christmas photo cards is the Dreaming of a White Christmas. This card has a certain subtle element of beauty between the sophistication in the black and white design, to the chalkboard-style text throughout. This is a great option if you're looking for a contemporary yet chic way to wish all your friends and family a happy holiday.
Reindeer and Ornaments Invitation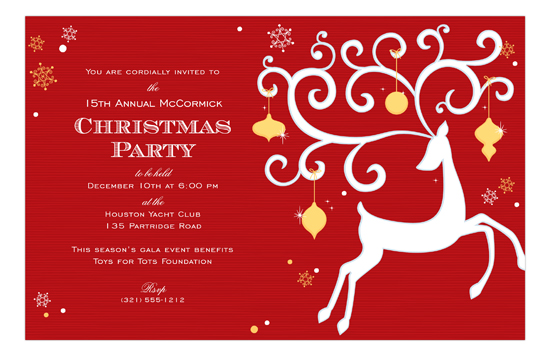 Or maybe hosting a holiday event is more your speed. In that case, then you'll need to choose the perfect invitation from our vast selection of Christmas party invitations. Like the Reindeer and Ornaments invitation show above. This fun holiday card showcases a regal reindeer with decorative and colorful ornaments hanging from its antlers. With the bright red background being pleasantly eye-catching, paired with the delicate white text, this is a great way to extend the invite for the party of the season.
Toasty Santa Invitation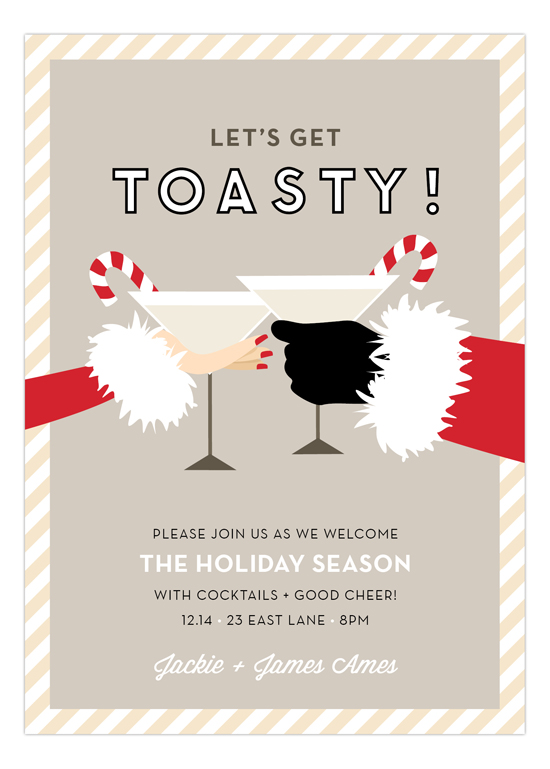 Maybe you're looking for a Christmas party invitation that is a bit more cheeky and clever. In that case, the Toasty Santa invitation would be a great choice! It's simple in design and graphics, but brings an air of cheer, welcoming everyone to an adults only party they'll remember.
Blue Hanukkah Chalkboard Card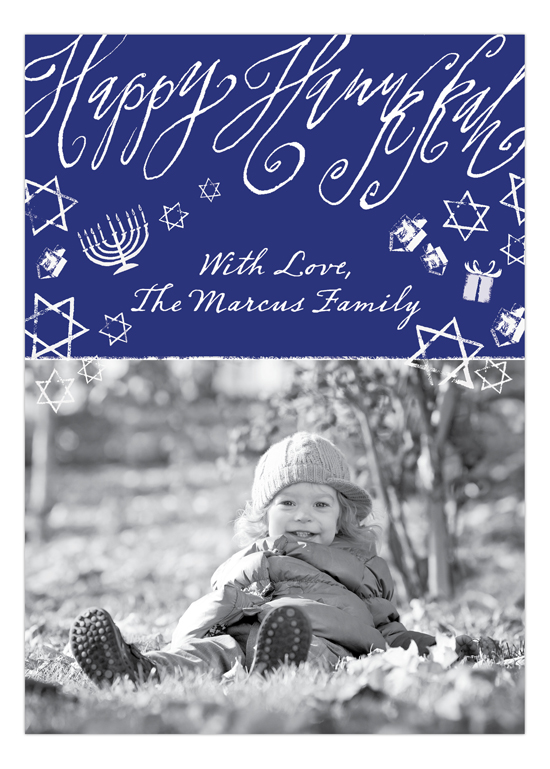 Perhaps you are looking for an invitation that is more holiday specific to your needs. If so, then our wide variety of Hanukkah photo cards might be just right. We feature some of the most celebratory photo cards for all occasions, and our Hanukkah cards fit right in. Like the Blue Hanukkah Chalkboard card pictured above. This popular choice features a black and white photo of your choosing, paired with delightful cursive text and festive graphics.
3 Stockings Hung Rectangular Sticker

Maybe for some, Christmas photo cards aren't in the agenda this year. But, they still want to show off their holiday spirit in some way of another. Our collection of personalized Christmas address labels might be a perfect way to show off your festive side while sending outgoing mail. Like the  3 Stockings Hung sticker shown above, or the Chevron Christmas Scallop label below.
Chevron Christmas Scallop Address Label

Or maybe you are sending out photo Christmas cards this year and instead just need something to jazz up the outside envelope. Our collection of personalized address labels paired with our assortment photo cards will make any holiday celebration more remarkable for both your family and the recipients of your cards. Allow Polka Dot Design to be there every step of the way.