Today officially marks the first day of fall, and here at Polka Dot Design we could not be more thrilled. Sure, we're going to miss the allure of summer, and sending out summer soiree invitations, but today denotes a brand new season for all types of new gatherings. We're talking about fall party invitations. The air gets a bit crisper, you start to incorporate more sweaters and scarves into your wardrobe, and a new season means new reasons to gather with friends and family. Take a look at the kind of fall parties we mean, and start to imagine the possibilities.
Fall Baby Shower Pumpkin Invitation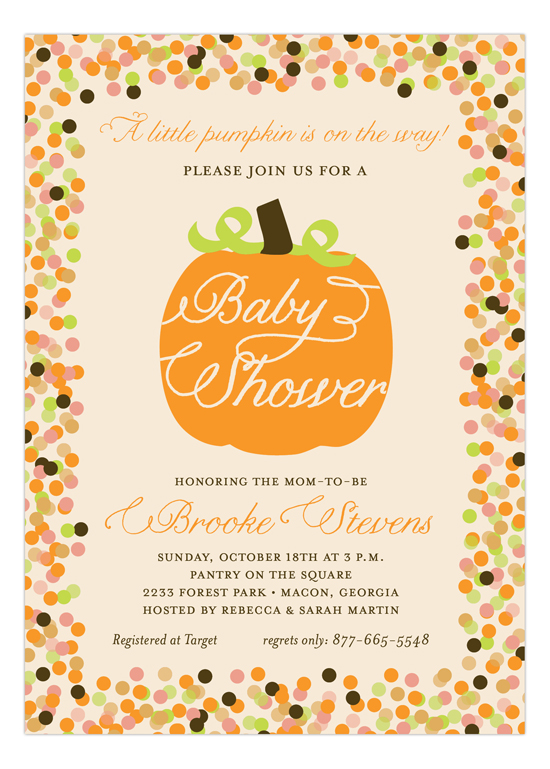 What better way to gather your friends and family then for the autumn baby shower of your dreams. The Fall Baby Shower Pumpkin is a fun, seasonally celebratory invitation perfect for any fall baby shower occasion. With playful dots lining the border of the invitation, and a combination of sophisticated and whimsical text throughout, this invite is a great way to extend the welcoming of your new bundle of joy.
Harvest Hayride Invitation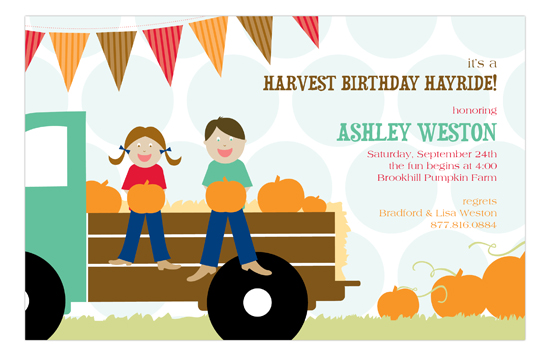 Or maybe your bundle of joy is now full grown and celebrates a harvest birthday every year. If so, the Harvest Hayride is a great choice for all upcoming fall party invitations. The card is simple in design, yet honors the best parts of the upcoming season with hayrides and pumpkins artistically incorporated. The horizontal shape and the spirited artwork make this invitation a cheerful way to celebrate both the fall season and your child's birthday.
Fall Leaves Chalkboard Invitation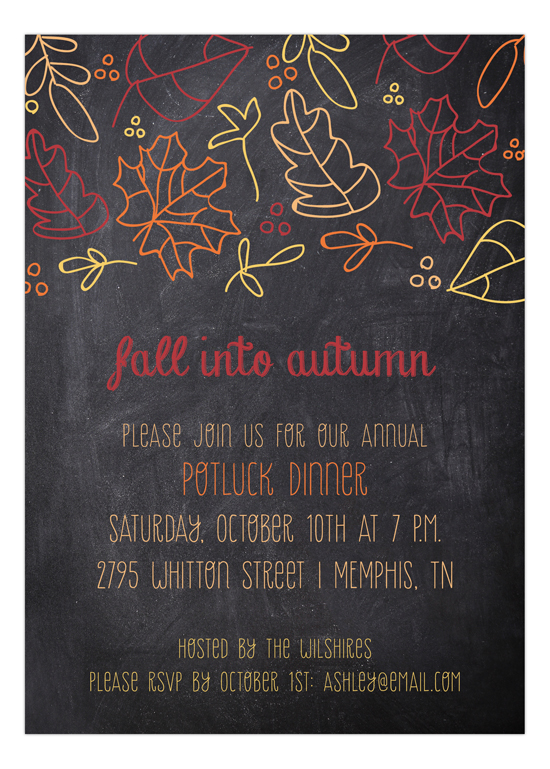 Perhaps you're looking for a great way to gather your neighbors and friends for a potluck dinner. Whip up some fall-themed delights like pumpkin soup or apple pie and invite your friends and family to bring their favorite recipes in recognition of the upcoming season. Our Fall Leaves Chalkboard Invitation is a more modern approach to seasonal invites, and has a chalkboard background with red and orange leaves outlining the top. It's contemporary and cultured and makes planning a potluck a cinch.
Chevron Tailgate Invitation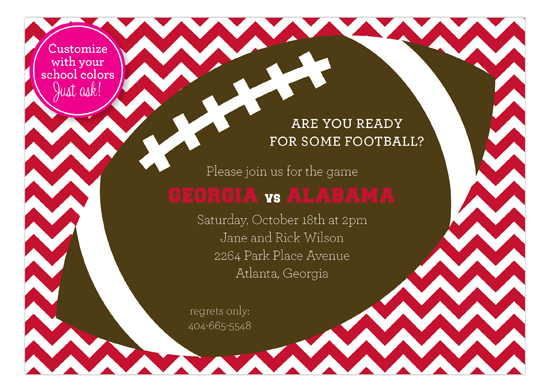 But maybe the fall season means one thing and one thing only–football. Perhaps you celebrate the big games with friends and family, and need a way to personally extend the invite. The Chevron Tailgate Invitation is an awesome choice, not only because it's a more light-hearted way to capture the fun frenzy that is football season, but also because you can personalize this fall party invitation. While creating the invitation, you can customize it with your school's, or your favorite team's colors. How cool!
Fall Leaves Invitation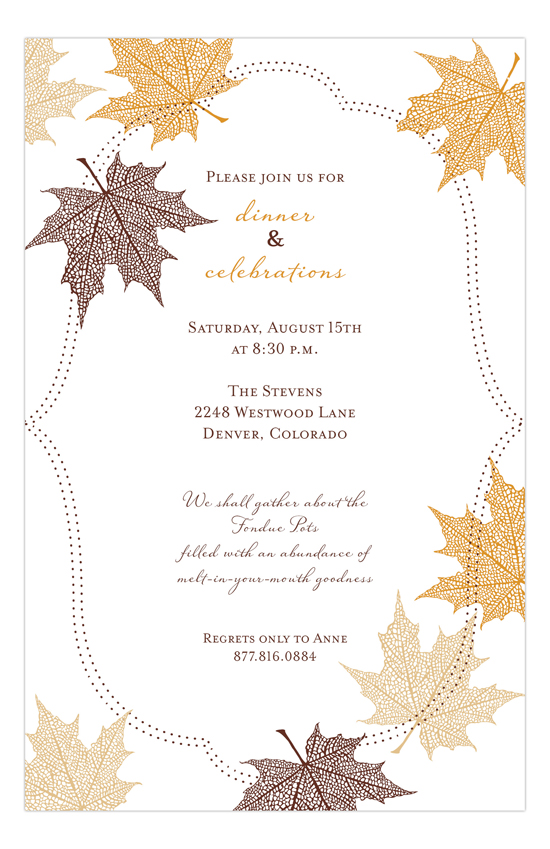 Another important holiday during the fall season is Thanksgiving, and we have you covered on all your Thanksgiving dinner party invitations. If you're looking for a chic, sophisticated way to invite your family and friends for the upcoming holiday, then check out the Fall Leaves Invitation by Rosanne Beck. The illustrations of the leaves along with the text and design are very delicate, and provide a practical approach to invitations.
Happy first-day-of-fall, everyone! We love autumn so much and want to pay homage to the season by being your go-to source for all fall party invitations. Whether it's an annual Halloween party, or you're just looking to gather on a Sunday for some football festivities, allow Polka Dot Design to take care of the invitations, so you can focus on the fun.