It's almost that time of year where your calendar is jam-packed and you have holiday party invitations lining your refrigerator. Celebrating the holidays is a momentous time at the end of the year where family, friends, neighbors, or coworkers can all gather and let loose for some good old-fashioned festive fun. If you're thinking of hosting your own soiree and need some invitation inspiration, then you've certainly come to the right place. Take a look at our holiday party invitations that will surely ignite your party-planning passion.
Many people come together at the end of the year to celebrate accomplishments within their business. Most companies like to honor their hard-working staff with a holiday party that will be talked about many years to come. If you're in charge of the party this year, then take a look at some of our company holiday party invitations. We have a huge selection of invitations to choose from in order to perfectly capture the spirit of your business. A few of our most popular company invitations include:
Holiday Peppermint Cheer Invitation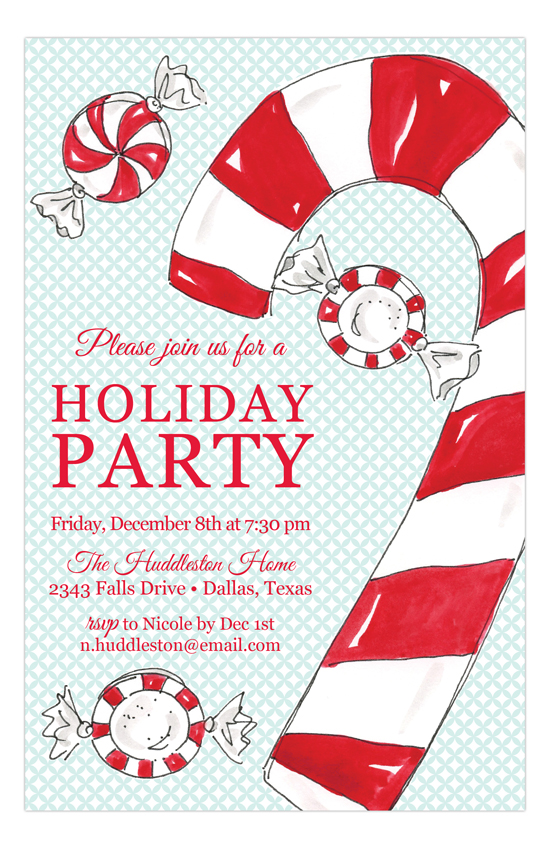 Hot Cocoa Mug Invitation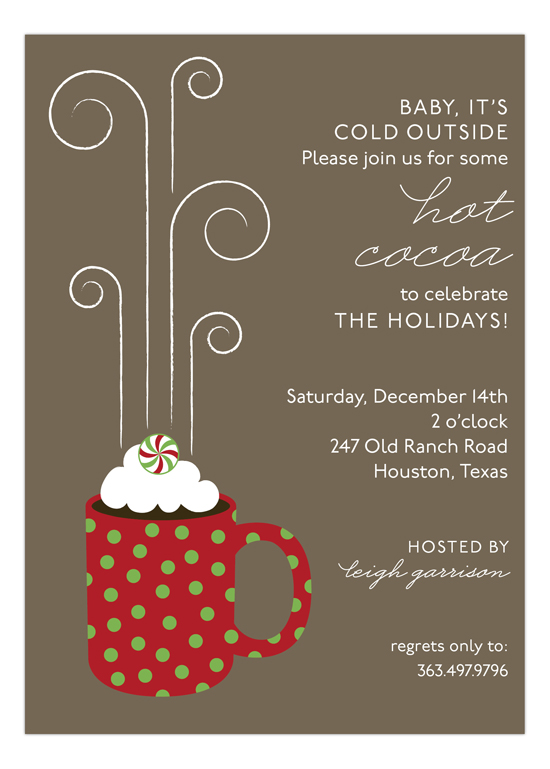 Merry Bright Lights Invitation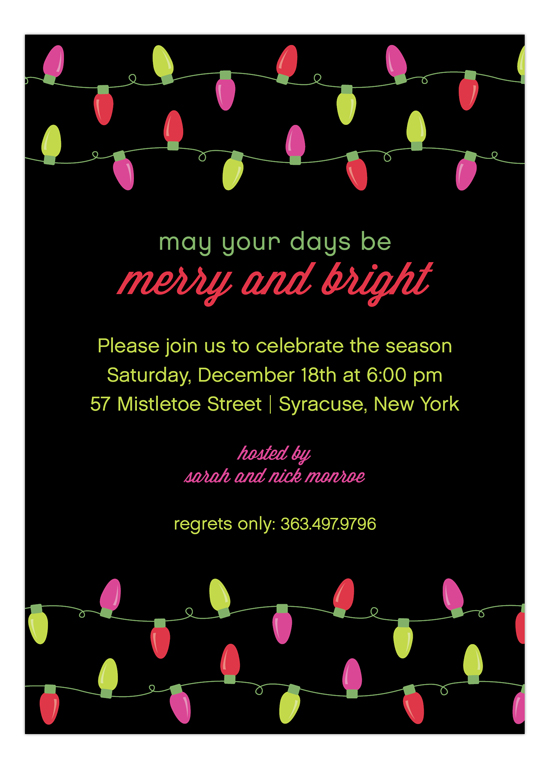 Or perhaps you've already discovered your holiday party idea. What better way to gather friends and family and get down than with a Yuletide cocktail party! Our assortment of Christmas cocktail invitations is sure to run the gamut on design and detail. We have invitations that are fun and frisky, to a more regal, sophisticated feel. Maybe you want to get the girlfriends together for some drinks, dancing, and Christmas decorations. Take a look at some of our Christmas cocktail invitations and see which one tickles your fancy.
Sparkle All The Way Invitation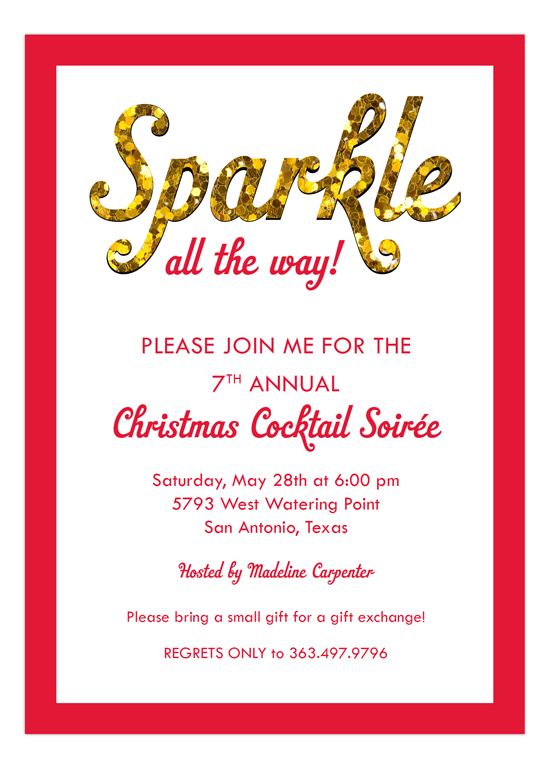 Jolly Cocktails Invitation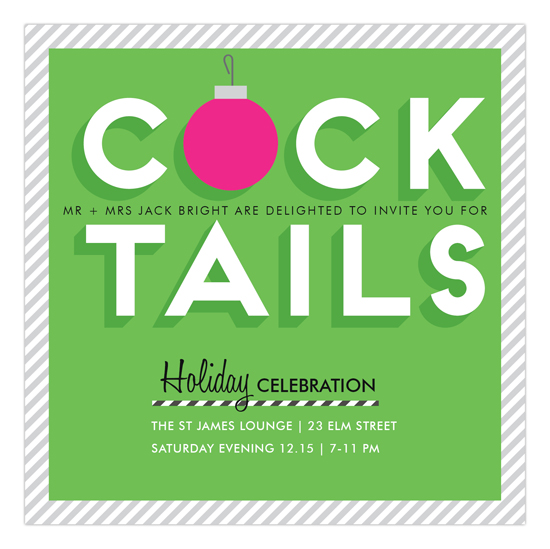 Holiday Red Green Chevron Invitation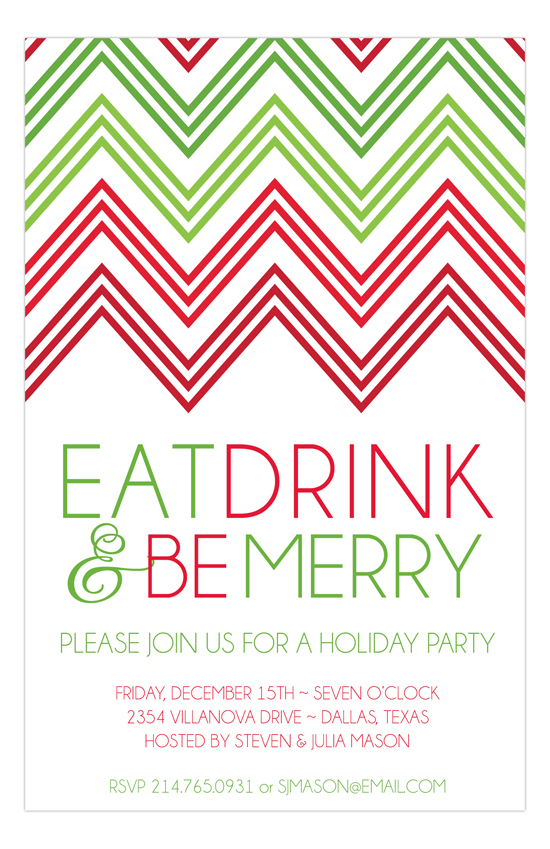 Our holiday invitations cover all types of parties and gatherings this upcoming season. Here at Polka Dot Design we like to offer a wide arrangement of invitations in order to reach every single person seeking to celebrate with cheer. Each of our invitations offer the option to be customized to your liking. We don't just supply your regular, run-of-the-mill patterned invitations. But instead feature some of the most off-beat, wild, creative invitations perfect for someone thinking outside the box this holiday season. Take a look at what we mean:
Candy Cane Stripes Invitation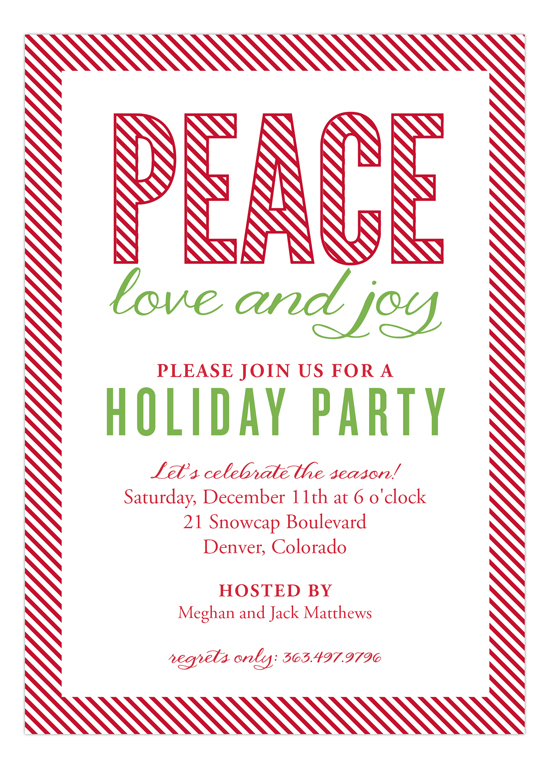 Celebratory Stripes Invitations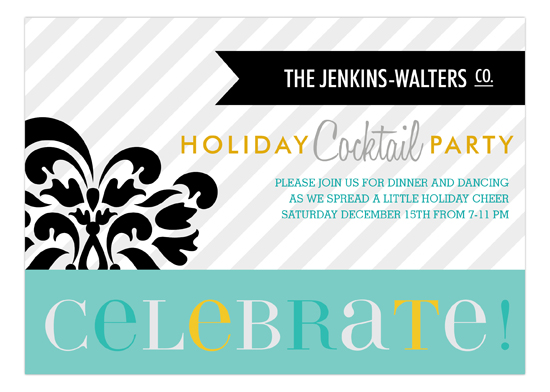 Glitter Tree Invitation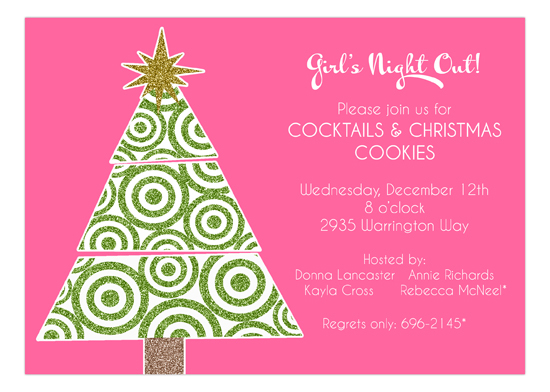 We also want to make sure that you're completely satisfied with your Christmas party invitations. It's a special time of year which requires the utmost care in party planning. Besides the opportunity to add a bit of your personality to each invitation through our customization process, we also provide assistance in holiday party invitation wording! Maybe it's the aesthetics that come easily to you, and choosing an invitation is the quick part. But where you reach a roadblock is in the proper wording for your invitations. This is where Polka Dot Design steps in. We've come up with a plethora of clever Christmas phrases and sayings to properly adorn your invitations. From Christmas Cookie Exchanges to Holiday Dinner Potlucks, Polka Dot Design has an array of festive phrases to perfectly sum up all of your invitation needs.