Finding the time to say "thank you" may be tricky for some people. If you're always on-the-go, or your schedule is perpetually at full capacity, it may be hard to even imagine having the time to stop at a store, venture into the messy card aisle, and then spending hours browsing through until you find the perfect one. But even then, you're trying to fit your personality into a generic greeting card and hope it shines through the way you need. So why not eliminate all the hassle, and allow us to create personalized thank you cards, perfect for any and all occasions?
Imagine how simple it would be to say "thank you" each and every time with your own collection of thank you cards on hand. Here at Polka Dot Design, we have created a simplified process in order to find the right thank you cards, and personalize them to your liking with only a few clicks of a button. It's that easy.
Take our adorable collection of kids thank you cards, for example. These cards are a great way to send a quick "thank you" to friends and relatives on behalf of your child. Like the Adorable Dot Folded Note Card below. The design is stylish and straightforward with pastel polka dots and playful bordering. You can personalize the text inside any way you like, to add a bit more of your own touch that store greeting cards do not allow. We also feature the Airplane Note Card as well, which is a wonderful way to say "thank you" for attending your son's birthday party. Keep the spirit of you child with every thank you card you send on their behalf.
Adorable Dot Folded Note Card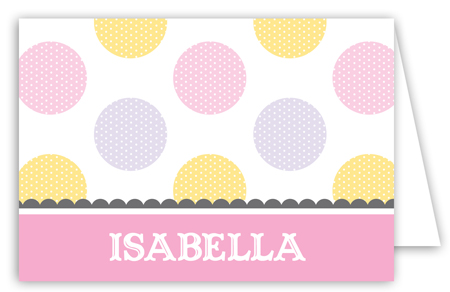 Airplane Note Card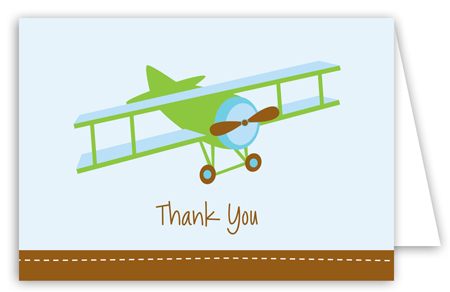 Perhaps you need to find a way to say thank you on behalf of your newborn baby or unborn baby! Sending out thank you notes after a baby shower should be a fun, enjoyable experience where you get to relive your shower all over again. Our baby thank you notes are full of life and love, and each can be fully customized to your liking. Take the Book Baby Shower Blue card below. As one of the more popular choices, this card is an excellent way to send thanks to family and friends for attending your baby's shower, or contributing a gift. The artwork is delicate and smooth, with a spirited floral pattern.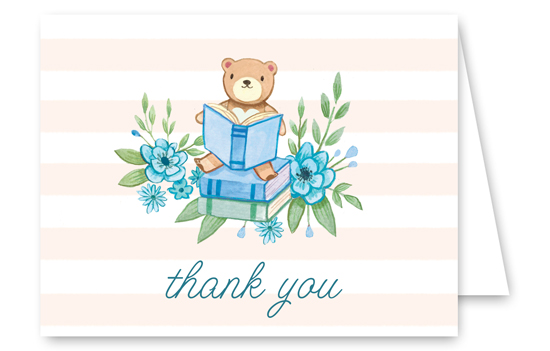 Our personalized stationary choices are the best around. We offer such a wide variety of colors and designs, you won't have any trouble finding a card that fits your style perfectly. Take the Bright Pink Confetti Cupcake Folded Notecard below. The bright colors and funky designs are a great way to express gratitude in a lighthearted yet wild way!
Bright Pink Confetti Cupcake Folded Notecard
Bird Tribal Thank You Card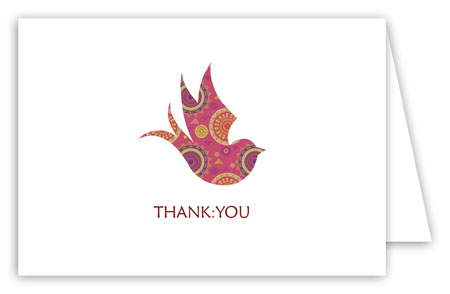 Another great choice in our custom thank you cards category is the Bird Tribal Thank You Card. For the inner bohemian in us all, The Bird Tribal card is a more contemporary way to say thanks. The simple patternwork detailed inside the dove brings the entire card to life. It's clean, it's modern, it's peaceful. Plus, you can add your own bit of personality flare on the inside.
We also feature an impeccable selection of personalized address labels that are very handy to have on hand. Keep a bit of your personality and charm with every piece of outgoing mail you send. You can choose the design, the text, the colors and make sure it is exactly to your liking. You can even customize your address labels every holiday to showcase your spirit for every occasion! Take a look at a few of the most popular address labels we have.
White Elephant Rectangular

Kraft Pink Crawfish Boil Address Label

Birthdays are a Hoot Address Label

No matter the opportunity, Polka Dot Design wants to make sure your covered with any and all personalized stationary needs. Having correspondence that can show off a bit of your style and pizzazz can be as easy as a few clicks of your mouse. Make each letter, note, card, or thank you one that comes straight from the heart. Your heart.