Becoming a bride has never been so fabulous with our arrangement of African American bridal shower invitations. Here at Polka Dot Design, we carry collections of invitations that are specific to different genders, demographics, cultures—you name it, we have it. We know that each and every one of our customers is different in their wants and needs of the perfect invitation, and we cater to those needs specifically.
So you're looking for the perfect bridal shower invitation. We're here to help. Having a bridal shower can be one of those historically meaningful occasions that your friends and family gather to celebrate you—and only you. Your wedding is a one-of-a-kind event, which means your invitations need to reflect just that. Take a look at some of our most popular African American bridal shower invites and start planning the perfect party today.
African American Blue Cake Bride Invitation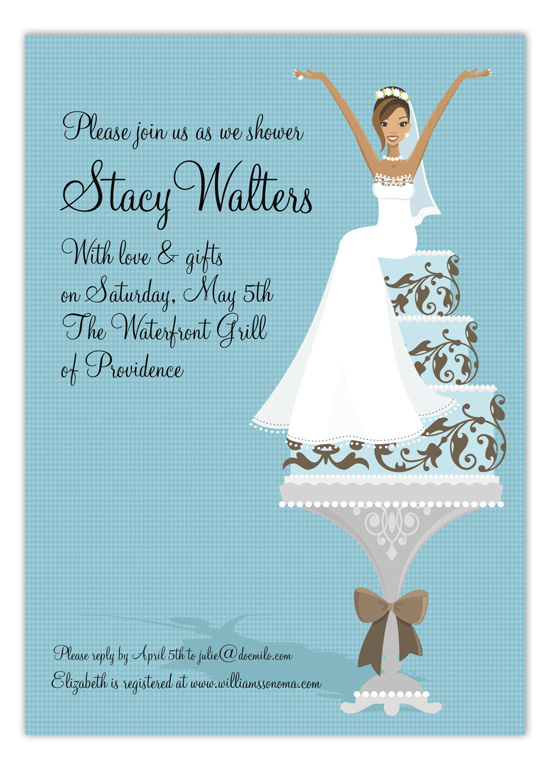 This delicate and chic invitation is a perfect choice for your upcoming bridal shower. The text is sophisticated and the design is simple. If you're looking for an uncomplicated invitation that you can fully customize to your liking, then this is the right choice for you.
African American Bride on Gift Invitation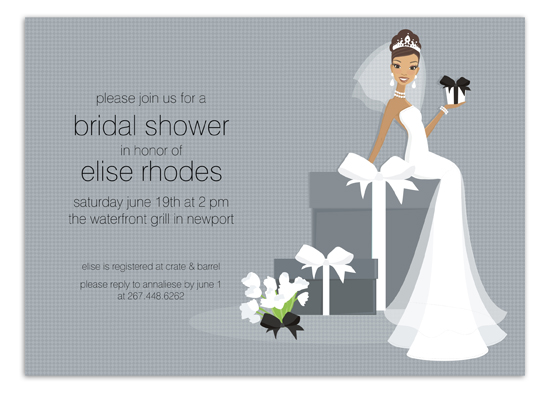 Another fun invitation in the Doc Milo collection is the Bride on Gift invitation above. Doc Milo is one of the leaders in bridal shower invitations as well as designer baby shower invitations. The color-scheme is straightforward, and the text is effortless. Not to mention the beautifully designed character on every invite. If you're looking for something smooth and ready in a snap, then the Bride on Gift invitation is for you.
African American Pink Stock the Shelves Invitation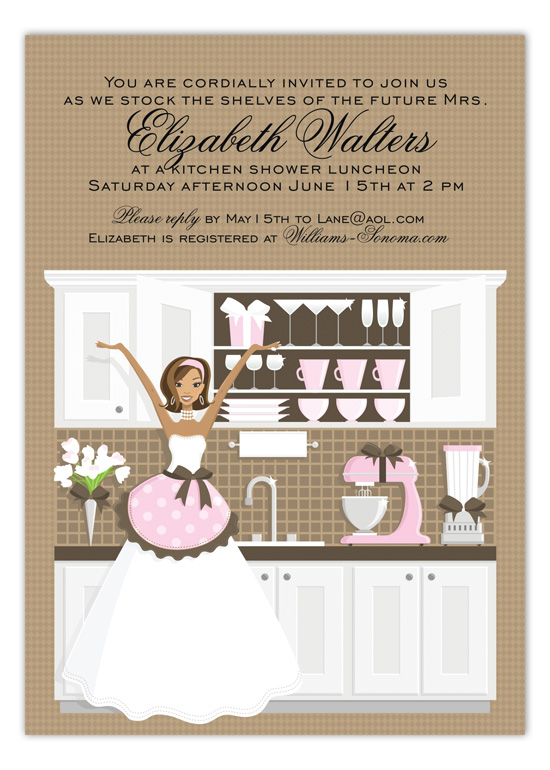 Perhaps you have a more specific bridal shower event in mind. Maybe you'd prefer a luncheon over a wild night out. The Pink Stock the Shelves is a great choice if you're looking for a more low-key celebration for your bridal shower. But just because it's a more relaxed occasion, doesn't mean you don't have to choose the right invitation to party. With the light color schemes and very delicate graphics, the Pink Stock the Shelves invite is another win for Doc Milo.
African American Cocktails + Couture Invitation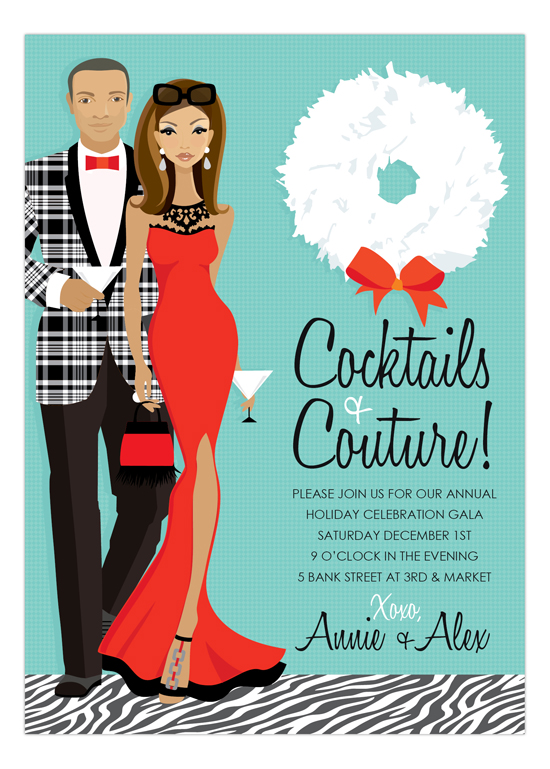 Many showers nowadays include both parties in the celebration to create an ultimate couples bridal shower. If you're preferring this non-traditional route, then the Cocktails + Couture invite is the right choice for you. It's a more practical and refined option when you're gathering friends and family for a more elegant affair. Customize the invite to your liking by personalizing the colors, text, and wording.
The process in choosing the right bridal shower invitation is a simple one. Sit in the comfort of your own home and order invitations online. It's that easy. We want a simplified process to make it a more enjoyable event. Thank you for choosing Polka Dot Design each and every time.