So you're looking to plan a baby shower…how exciting! Perhaps you have some knowledge already tucked away but need a refresher, or maybe you're a newbie looking for where to start! Regardless of where you sit on the Professional Baby Planner spectrum, we're here to help. While normally we pride ourselves on being your go-to source for baby shower invitations, we've decided to take it a step further and help you plan the perfect shower. Let's start at the beginning with the first step….
Step 1) Choose a Theme
Sometimes the theme is the most important part of the baby shower. Choosing the right theme can make or break your planning process. Why? Because choosing an obscure, somewhat difficult theme will make finding invitations, decorations, and more a real pain. Keep it simple, but something that speaks to the guest of honor, or perhaps speaks to who they hope their child to be.
Step 2) Set A Budget and Create A Guest List
These two go hand-in-hand because how many people you choose to invite to your shower will directly influence the budget. By keeping a guest list small, the budget is lower. Inviting everyone from college and their mothers will make the budget explode. But once you set these two….you're able to…
Step 3) Choose a Venue
While some women choose to keep in conventional in a home or backyard, some women like to have a baby shower brunch and find a worthwhile restaurant. Setting the budget also directly reflects in where you choose to celebrate. If you're keeping things on the inexpensive side, then an intimate setting may be required where no venue fees are associated. Keep in mind, too, the venue might not be where you want to splurge the most!
Step 4) Pick the Right Baby Shower Invite
Feel free to use Polka Dot Design for this step because really, our collection of invitations can't be matched. We have some of the most popular gender neutral baby shower invitations to the most intricately designed onesie baby shower invitations. Have a look at some of our favorites:
Baby Shower Umbrellas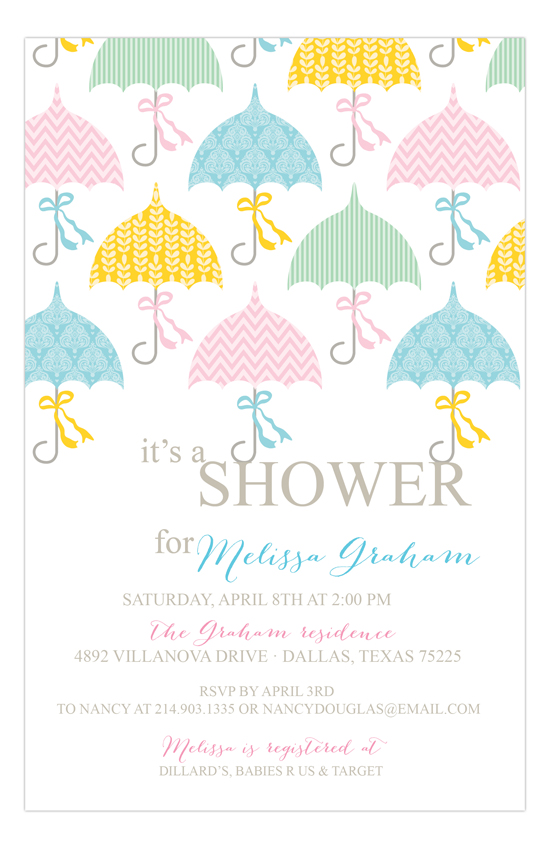 Baby Shower Animals Lime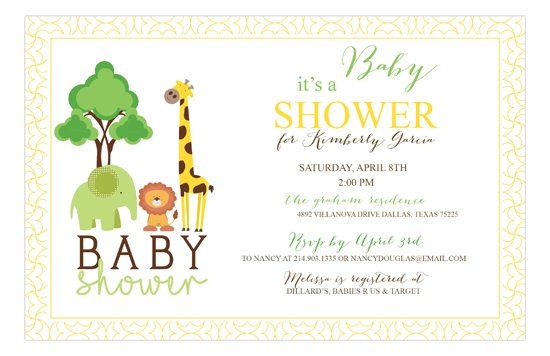 Baby Shower Words Pink
Pattern Cutie Onesie Invitation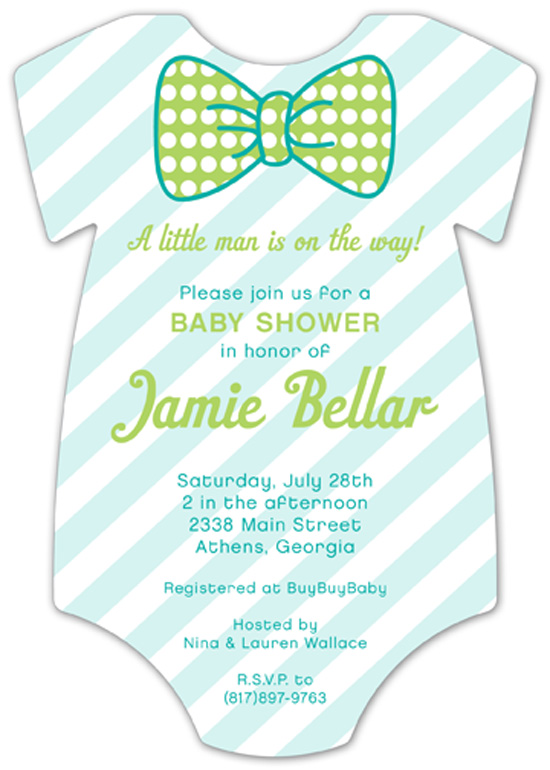 Beautiful Bassinet Green Invitation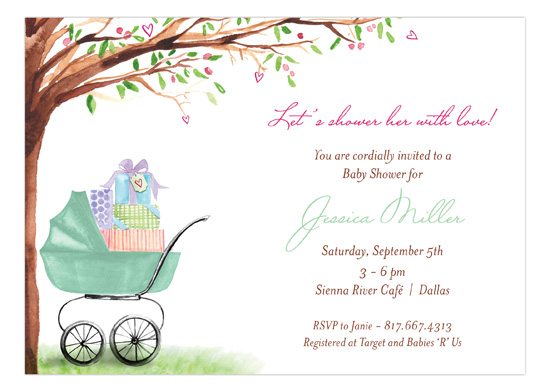 As you can see, we have a huge selection of unisex baby shower invitations, in case you're waiting to find out the gender of your bundle of joy.
Step 5) Plan the Menu
Almost as important as the baby shower invitations are the food options! Make sure the food meshes with what the guest of honor wants, after all it is her day. This maybe where you want to splurge the most. Consider serving mini portions or a few different foods in order to make it easier for guests to manage eating, drinking, and also taking part in the festivities!
Step 6) Games and Party Favors
Games are what make the day unique and memorable, while the favors are a special way to remind the guests that you appreciate their attendance. There are a few popular baby games that people play at shower, like guessing the inches of the guest of honor's belly or drinking wine from a baby bottle! There are so many different types of games that will surely make the day a blast. You can tie those games, along with the party favors, into the chosen theme!
There you have it! A few easy steps to planning a baby shower…do you feel more prepared? At least we've started you on the right track, not to mention given you some adorable baby shower invites to choose from. Happy planning!