So, you've decided this year that you don't want to go home for Thanksgiving…the endless questions about your relationship status, the badgering for when you'll get married, the constant setting you up with a friend's son who's a dentist–you've had enough. Instead of the long, drawn out family dinner that is Thanksgiving, you choose to instead throw the ultimate Friendsgiving. Maybe you have more friends that are staying local for the holidays and together want to throw a Friendsgiving no one will ever forget. If that sounds like something you're into, then we have a few How-To tips that can help you along the way…
Create a VIP Guest List That You'll Enjoy
Friendsgiving is not the time to invite those people you feel sorry for but know that you have nothing in common with. Unless the holiday is making you feel extra generous, then by all means. But don't feel obligated to invite people you won't enjoy the company of. Friendsgiving is still a way for you to enjoy the holiday, and not be surrounded by people you don't have to be. That's what family Thanksgiving is for, amiright? Friendsgiving is a way for you to carefully curate the guest list for you to be surrounded by those people that you love. And if you need a way to extend the invitation, then create your own fall party invitations online at Polka Dot Design for the fanciest way to gather those guests.
Autumn Cutlery Invitation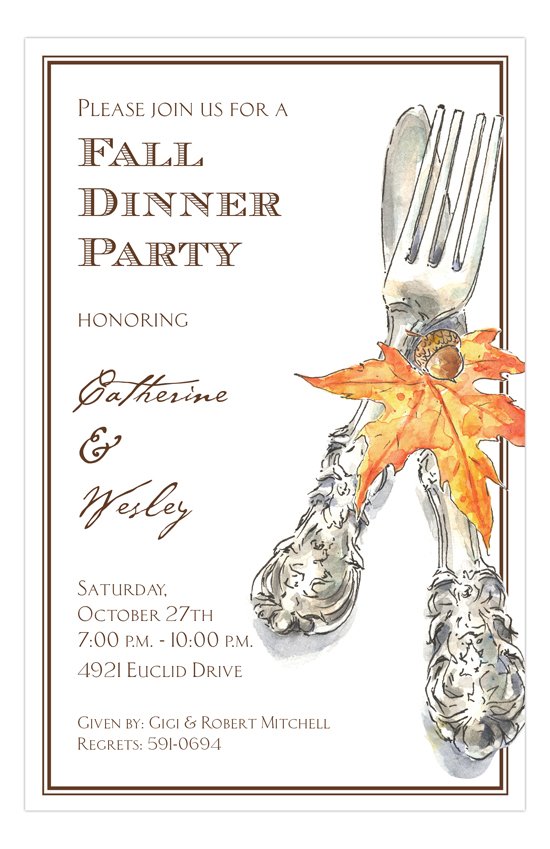 Be the Hostess With the Mostess…Drinks Possible
Some of the fun from hosting a Friendsgiving comes in the form of the cocktails provided throughout the meal. Everyone wants to let loose and let go of all the unnecessary stress that a holiday can bring. So make sure that you have enough libations for everyone. If you're keeping it an inexpensive affair then you can ditch the clever cocktails and instead hit up your local Costco for bargain bottles of red and white to keep the party flowing. Also, snag a few bottles of champagne if you wish to have a toast before dinner, and maybe some mineral water to keep everyone hydrated.
Have Enough Food for Everyone…Including Snacks
Dinner can take a while. Especially if you decide to have everyone bring a dish (highly recommended so you don't pull your hair out). So, instead of getting frustrated that people are incredibly late and the important dishes are missing (damn millennials) make sure you have some snacks on hand, or some appetizers to hold everyone over. Don't just throw out a bowl of peanuts and call it a day, but instead have a few easy, simply appetizer dishes that can keep everyone at bay while they enjoy the preamble before the meal.
Keep Your Guests Entertained
Music, of course. Good stories, a must! But also as the hostess of the ultimate Friendsgiving, you can also incorporate a few games or entertainment ideas to keep everyone busy. Maybe pass out notecards before dinner for all your friends to write down two things they are thankful for. Or maybe turn the card game into a drinking game and get a little wild. Regardless, this is your chance to create something fun and memorable for everyone to enjoy.
Leftovers for Daaayyyyys
A cute way to send all your guests off with a little something is with their own Tupperware of leftovers from the meal. We all know that leftovers from Thanksgiving is often even better then the meal itself, so buy a few glass Tupperware containers from the $1 store and send your guests home with a little love and a great meal to remember you by the next day.
We hope you have the ultimate Friendsgiving this year. For more tips on fall party ideas and other autumn gatherings, feel free to click through our archives!