One of the most enjoyable parts of planning a wedding are the pre-wedding festivities. Planning a wedding can be tough, and oftentimes frustrating. However, the pre-wedding fun, such as the bridal shower or bachelorette party, are normally when the bride and groom can let loose with their friends and loved ones and enjoy the journey toward marriage.
Coming up with wedding invitations or the pre-wedding party ideas is no easy feat, yet it can be an incredibly enjoyable portion of the planning process. We have quite a few ideas that can help you along the way to create a unique, one-of-a-kind party that both you and your guests will never forget. Take a look and see for yourself…
Watercolor Blue Blossoms Invitation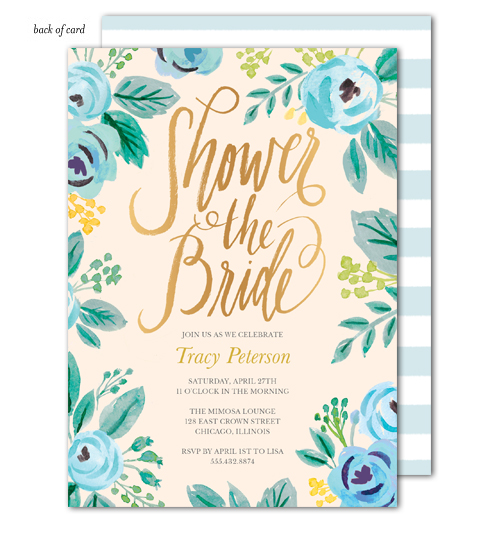 The bridal shower is always a fun way to gather the girls together and celebrate your upcoming nuptials. There are quite a few bridal shower ideas to toss around in order to create a memorable and special occasion. We have the perfect invitations for each and every theme or idea, so don't be afraid to think a bit outside the box! Here are a few bridal shower party ideas for you to consider and use to get the ball rolling.
Kitchen Shower
Many couples look to fill up their kitchen with a kitchen shower theme. This type of bridal shower means that guests are encouraged to bring kitchen gadgets and gifts for the couple to use and display throughout their new home. Also, it could indicate a family recipe swap, a kitchen congregation for the party, or even a cooking bonanza where food and fun is traded with ease.
Kitchen Canisters Invitation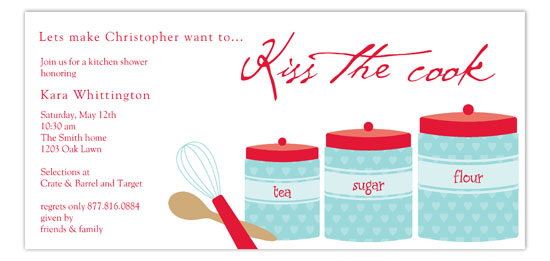 Lingerie Shower
If you're looking for a more lighthearted and risque bridal shower theme, then a Lingerie Shower will be the perfect option. Guests will be able to spoil the bride with gifts of lingerie and sexy sleepwear. A Lingerie Shower may feature more flirty gifts and clever ideas, perfect for the new couple to indulge.
A Little Something Blue Invitation
Or if you're looking for a more chic and sophisticated bridal shower, then a Bridal Luncheon is an excellent choice. This traditional choice showcases a more classic bridal shower theme, with a gift exchange, games, and whimsical banter over a wonderful meal celebrating the bride.
Celery Wrap Invitation
Similar to the Bridal Luncheon, you can also host a Bridal Brunch! This just means that the meal would be a bit different (ie: probably more pancakes and mimosas), and can even feature an afternoon of tea. The Bridal Brunch is a more modern party which specifically fits into a particular time of day.
Mimosa Invitation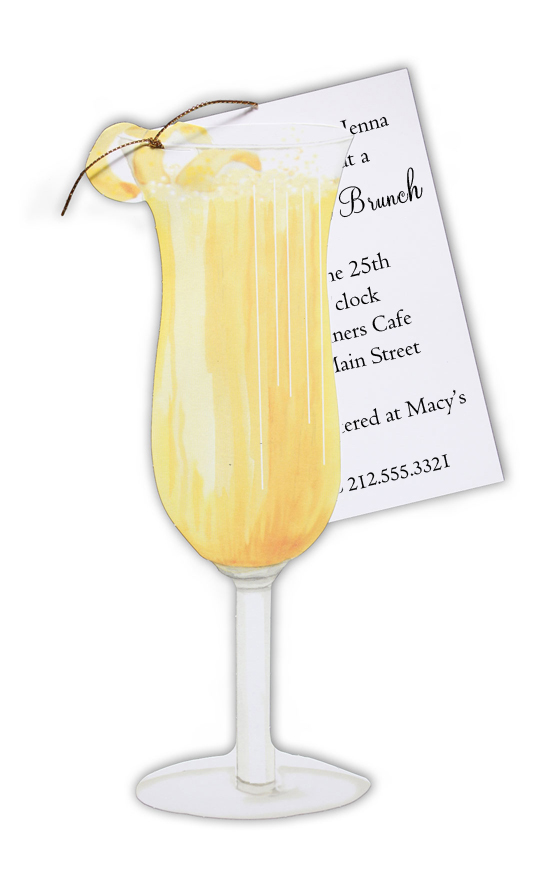 Around the Clock Shower
Another great idea for a bridal shower is the Around the Clock Shower. For this popular shower idea, every guest is assigned a specific time of day. According to that particular time, guests are asked to bring a gift that equates to that time. For example, 6am-7am can be a coffee maker, yoga mat, or sexy sleepwear! 9am can be a new waffle maker, or juicer! The Around the Clock Shower can be a great way to get creative and add a mix of unique fun into the occasion.
Around the Clock Invitation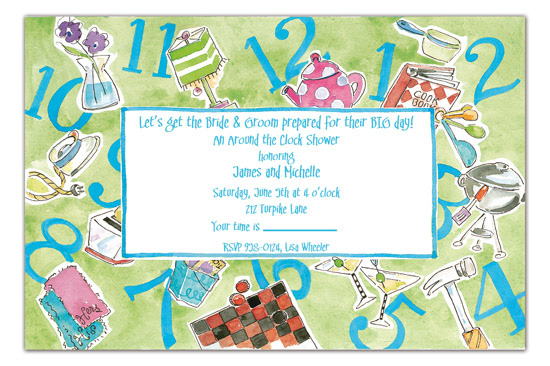 No matter what type of bridal shower theme you land on, we are here to help every step of the way. We want each occasion and gathering to be as special and unique as you are, especially allowing for your big day to be one for the books.